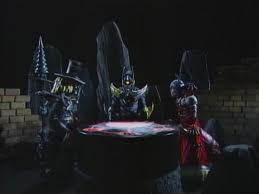 The Demon Army Jamanga (魔人軍団ジャマンガMajin Gundan Jamanga?) serves as the principle enemy of the Shot organization and the Madan Senshi. Their main purpose is to gather minus energy that is created when humans are in despair to resurrect their leader, DaiMaOh GrenGhost.
- When fighting a Swordsman Familiar at Akebono Temple, it proved to be a match for Ryukendo's normal form. Ryukendo defeats it with his Fire Mode, but the Jamanga somehow took in the fire attack's source and powered up another Swordsman Familiar with Ryukendo's fire power. In this form, the Fire Familiar gains a flaming sword as well as a large shield that could move telepathically. The Fire Familiar overpowered Ryugunou and Ryukendo in his Fire Mode. Fire Ryukendo, while getting in a swordfight with the Familiar, caused large fireballs to launch and burn Akebono City. In the end, Ryugunou captures the Familiar's shield, and Ryukendo transforms into Aqua Ryukendo, destroying the Fire Familiar. Akebono City also snows from the Freezing Slash made from Aqua Ryukendo.
The Demon Beasts (魔獣Majū?) are usually created by Dr. Worm using a Madan Key as the core of the monster's form. However, Lady Gold and Baron Bloody can also create their own monsters.
Ad blocker interference detected!
Wikia is a free-to-use site that makes money from advertising. We have a modified experience for viewers using ad blockers

Wikia is not accessible if you've made further modifications. Remove the custom ad blocker rule(s) and the page will load as expected.