GekiRyuKen is the Kenji Narukami's transformation device.
Power History
Edit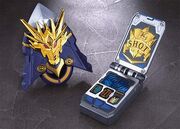 With him Kenji can transform into ryukendo. He was found by Kenji when he came into the town of Akebono while fighting a monster.
He later evolves into God GekiRyuKen.
After Kenji inserts the Ultimate key into God GekiRyuKen, he develops a new blade of power, a mode in which he is called (presumably) ''Ultimate''GekiRyuKen.
Ad blocker interference detected!
Wikia is a free-to-use site that makes money from advertising. We have a modified experience for viewers using ad blockers

Wikia is not accessible if you've made further modifications. Remove the custom ad blocker rule(s) and the page will load as expected.